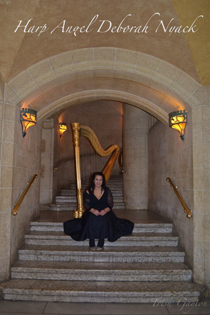 Why Harp Angel Harpist for your Calgary Wedding?
Harp Angel - is a professional harpist who brings joy, uniqueness & meaning to your wedding through music. Harp Angel loves to perform for weddings! As a premiere professional experienced concert harpist, Banff harpist Harp Angel is a Graduate of New York & London UK Music Conservatoires. Harp Angel - harpist offers exceptional expertise and 25 years of performance skills for your wedding music. Harp Angel is one of your best choices for your Calgary wedding music!
Harp Angel harpist is also available for music entertainment for your special event in Calgary! Harp Angel Deborah Nyack's famous CDs are available here!
Harp Angel harpist performs in Calgary, Banff, Lake Louise, Canmore, Kananaskis, Emerald Lake and more!